Apple Sees Strong Wearables Growth With 12.8 Million Shipments in Q1 2019
2019-05-31
216
Posted by 3uTools
Apple shipped an estimated 12.8 million wearable devices globally in the first calendar quarter of 2019, according to new data shared today by IDC. The wearables category includes Apple Watch, AirPods, and select Beats headphones.

Apple earned 25.8 percent market share during the quarter, making it the top wearables company, and growth was way up. In Q1 2018, Apple shipped an estimated 8.6 million devices, marking 49.5 percent growth year-over-year.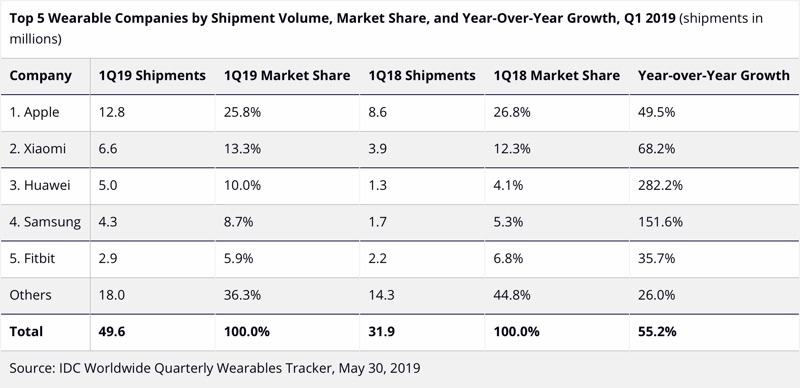 Chinese companies Xiaomi and Huawei were Apple's closest competitors with 6.6 and 5 million devices shipped, respectively, while Samsung and Fitbit took the fourth and fifth places with 4.3 and 2.9 million devices shipped, respectively.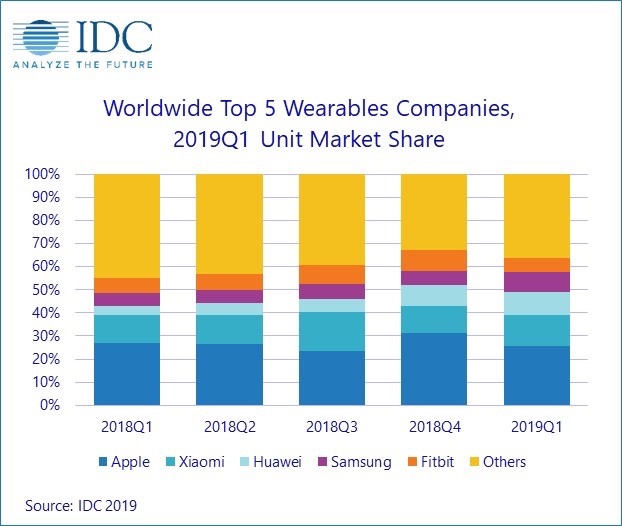 In total, there were 49.6 million wearable devices shipped during the first quarter of 2019, up 55.2 percent from the first quarter of 2018.

Splitting the data up by wrist-worn devices only, IDC believes Apple shipped an estimated 4.6 million devices, up from 4 million in the year-ago quarter. Apple was not the top company when it comes to wrist-worn wearables, with that spot going to Xiaomi.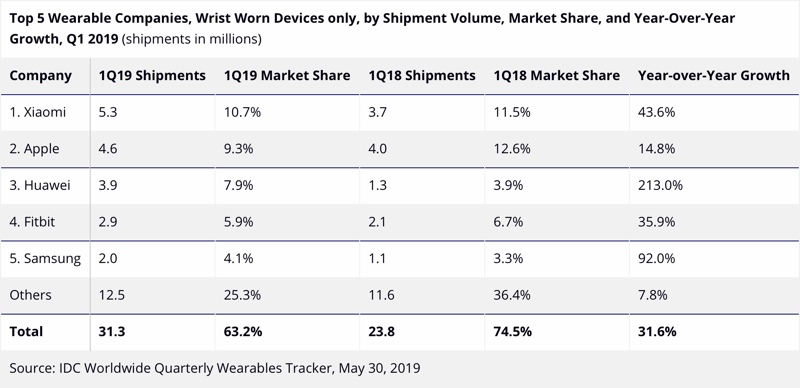 Xiaomi shipped an estimated 5.3 million wrist-worn wearable devices for 10.7 percent market share, slightly higher than Apple's 9.3 percent market share.
Apple has refreshed its Apple Watch every year since the device was introduced in 2015. In 2018, the Apple Watch Series 4 brought new ECG health features and an updated design with slimmer bezels. In 2019, rumors suggest we could see new casing materials and perhaps new display technology.
Source: macrumors
Related Articles

Apple Removes iCloud Activation Lock Status Tool From Website Rumor: Apple Blocks Activation on iOS 9.0-9.3.5 Firmware Apple Still Signing iOS 11.3 Beta 5/6, Downgrade to It to Jailbreak Your iPhone iOS 10.3 Jailbreak / iOS 10.3.1 Jailbreak How to Download Apple's Official iOS IPSW with One Simple Step? macOS High Sierra 10.13.2 Beta 4 Now Available Apple iPhone 7 Plus with Leaked Photos and iPhone 7's Packaging Box Apple Released the Final version of iOS 9.2.1