Apple iPhones account for 8 of top 10 cameras in 2016 Flickr report
2016-12-07
2527
Posted by Reposted
Photo sharing site Flickr noted that Apple remains the leading camera brand among its users, filling eight slots of its top ten most popular cameras. iPhones now account for 47 percent of its photographers, compared to 24 percent using Canon cameras and 18 percent using Nikons.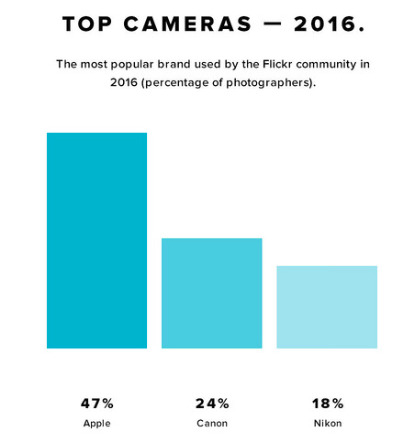 Source: Flickr
In its annual report for 2016, Flickr noted that, "as in previous years, smartphones have grown as the dominant device of choice, while point and shoot and DSLR cameras both lost ground."

Cameraphones grew to 48 percent of all photos uploaded in the year, compared to 39 percent in 2015. DSLRs shrank from 31 percent to 25 percent, and point and shoot cameras fell from 25 to 21 percent of users' uploads.


Just one year ago, Apple accounted for 42 percent of Flickr photographers, a percentage that's since grown to 47 percent.

Apple's focus on high quality sensors, lenses and in particular advanced silicon logic in its A-series Application Processors has enabled the company to gain a strong reputation among both professional photographers and casual users who want an easy to use, but ultra simple tool for capturing images.

This year, Apple has capitalized on its advanced camera imaging savvy to bring dual camera imaging to its best iPhone 7 Plus, along with a new Portrait mode that uses a dramatic depth of field effect for DLSR-rivaling background bokeh that focuses the viewer's attention on the foreground subject.
Source: Appleinsider
Related Articles

Apple Removes iCloud Activation Lock Status Tool From Website macOS High Sierra 10.13.2 Beta 4 Now Available Alibaba Pandora Lab Jailbreaks iOS 11.2 Successfully Apple Releases macOS Catalina With Find My, Screen Time, and No More iTunes Rumor: Apple Blocks Activation on iOS 9.0-9.3.5 Firmware Apple Still Signing iOS 11.3 Beta 5/6, Downgrade to It to Jailbreak Your iPhone iCloud Bypass Bug Discovered in iOS 11 iOS 10.3 Jailbreak / iOS 10.3.1 Jailbreak