Apple Celebrates Chinese Lunar New Year With Apple Store Events
2017-01-29
1570
Posted by Reposted
As part of ongoing festivities to celebrate the Chinese Lunar New Year this weekend, Apple is highlighting apps and stickers in the App Store in new curated lists, while some Apple retail stores are hosting specially themed workshops.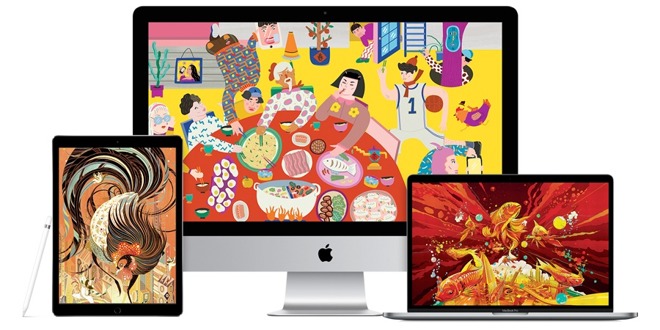 In the App Store in the United States, iPhone and iPad users are offered two lists of games, under lists titled "In the year of the rooster..." and "We wish you happiness..." While the second consists of a mix of popular games, the first list uses the "rooster" theme, selecting games that feature chickens and the farmyard, including Crossy Road and Hay Day.

In Canada, the "Celebrate the Year of the Rooster" list offers a variety of free and paid sticker packs, with some sticking to the Chinese New Year theme, and others featuring chickens.

The festivities are not being kept to the App Store, as those visiting Apple retail outlets will find activities they can take part in to help celebrate the event.

A number of Canadian Apple retail stores are hosting a special workshop, reports iPhone in Canada, titled "Create a Chinese New Year Greeting with your Family." Attendees will be able to create a short movie, illustrate a greeting, and record a family message at the workshop, which can be sent to friends and family.

The Apple Eaton Centre in Toronto is holding its workshop tonight at 5:30pm EST, while Apple Pacific Centre in Vancouver will take place tomorrow at 5:30pm. To take part in a workshop, each family member in attendance have to register beforehand via Apple's reservation system.

In the United Kingdom, Apple's Regent Street store in London is hosting a Photo Walk, which aims to show techniques and accessories to take great pictures of costumes, food, and bright colors on display as part of the festivities.

Aside from workshops, select Apple Stores will also be selling limited edition themed accessories, including the DJI Phantom 4 drone, Galaxy ZEGA Tanks, the Mophie Powerstation XL, and iPhone 7 and iPhone 7 Plus covers from Tech21.

Earlier this month, Apple started its celebrations of the Chinese New Year by giving away Beats Solo3wireless headphones with selected purchases in a one-day sale in some Asian markets. A series of high-resolution folk art wallpapers have also been posted on regional websites, free to download as backgrounds for Mac, iPhone, and iPad.
Source: appleinsider
Related Articles

iCloud Bypass Bug Discovered in iOS 11 iOS 10.3 Jailbreak / iOS 10.3.1 Jailbreak How to Download Apple's Official iOS IPSW with One Simple Step? Backup Your iOS Device When It's Disabled or in Password in Normal Mode PanGu Team Has Successfully Jailbroken iOS9.3.3 and iOS10 Beta1 3uTools is a Collection of Useful Tools Jailbreaking and Flashing Your iOS Devices Apple iPhone 7 Plus with Leaked Photos and iPhone 7's Packaging Box iOS9.3 Beta 4 and New iOS 9.2.1 Have Been Supported by 3uTools